Address
362 Eveline Street
Selkirk, Manitoba, Canada
R1A 1N3
| | |
| --- | --- |
| Phone: | +1 (204) 482-3641 |
| Fax: | +1 (833) 999-2122 |
Social Media
Store Hours:
| | |
| --- | --- |
| Monday | 9:00 AM to 6:00 PM |
| Tuesday | 9:00 AM to 6:00 PM |
| Wednesday | 9:00 AM to 6:00 PM |
| Thursday | 9:00 AM to 6:00 PM |
| Friday | 9:00 AM to 6:00 PM |
| Saturday | 9:00 AM to 6:00 PM |
| Sunday | CLOSED |
Pharmacy Hours:
| | |
| --- | --- |
| Monday | 9:00 AM to 6:00 PM |
| Tuesday | 9:00 AM to 6:00 PM |
| Wednesday | 9:00 AM to 6:00 PM |
| Thursday | 9:00 AM to 6:00 PM |
| Friday | 9:00 AM to 6:00 PM |
| Saturday | 9:00 AM to 6:00 PM |
| Sunday | CLOSED |
Services
Health Services
Prescribing for minor ailments
Authorized to administer drugs & vaccinations
Smoking cessation & counselling
Opioid dependence treatment
Delivery service available
Free needle disposal containers
Blood pressure testing
Medication packaging options
Certified fitter for compression stockings
Affiliated with Super Thrifty Compounding Pharmacy
Affiliated with Home Health Care Pharmacy
Medication disposal
Store Services
Manitoba Lottery ticket centre
Puzzles
International foods
Toys & board games
Magazines & paperbacks
Our Store
There has been a pharmacy located at 362 Eveline Street in Selkirk since 1876! Super Thrifty became part of the community in 2001 when Parker's Pharmacy owners Lorne and Mildred Parker retired. Darwin Cheasley became pharmacist/manager/owner in 2001, a position he continues to hold. Della Fidler has been a pharmacist at this located since 2003. Jatin Patel joined the pharmacist team in 2016.
Our Community
Selkirk is a city of 10,300 people located on the Red River. The Red River has an abundance of channel catfish making this area a draw for many fishermen. Selkirk, known as the "Catfish Capital of the North America", welcomes visitors to town with an 11 metre fibreglass monument of a channel catfish named Chuck. Selkirk has a thriving tourism industry and offers a vast array of outdoor activities from camping, swimming, cross country skiing and golf. This area is a golfers' paradise with many excellent courses.
Local well-known tourism attractions include Lower Fort Garry National Historic Site, Manitoba Marine Museum and Oak Hammock Marsh. For one weekend in June, the Selkirk area salutes its early founders' Scottish heritage by hosting the Manitoba Highland Gathering. Authentic highland activities such as caber tossing to hammer throwing draw a large audience. Highland dancing, pipe and drums and authentic foods make sure that the Scottish heritage is preserved. Selkirk Park is the scene every July for the three day Triple S Fair and Rodeo. If you like watching demolition derby, mud bog competitions or semi-pro rodeo, this is the place to be.
Super Thrifty supports many local sports teams and sports programming endeavours. As well, Super Thrifty proudly supports community projects for seniors, high school graduates, Kids Fishing for a Cure, the annual Selkirk Terry Fox Run and  The Marine Museum of Manitoba, just to name a few.
Meet the team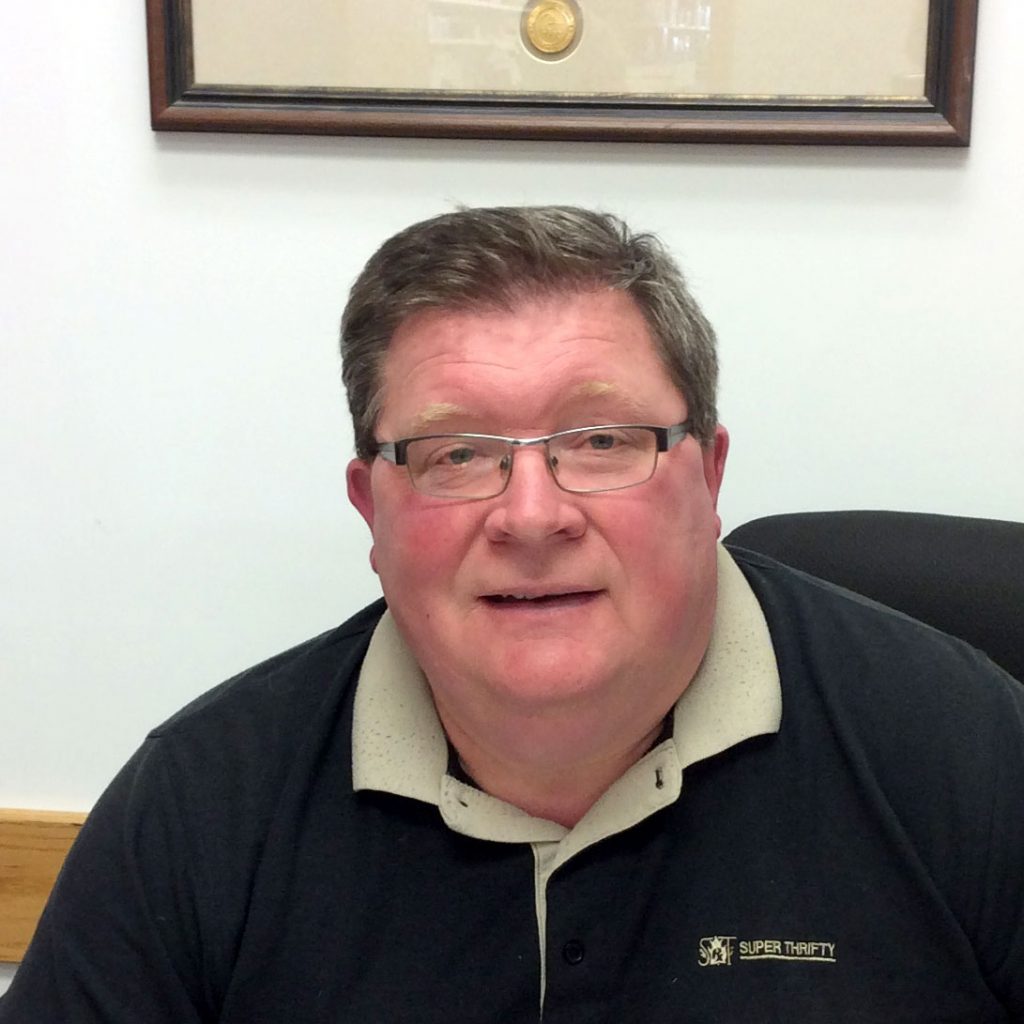 Darwin Cheasley
Manager/Pharmacist
Darwin grew up on his family's farm near Alexander, Manitoba, a small farming community just west of Brandon. He attended Red River College where he attained his Chemical Technology Diploma in 1984. He continued his education at the University of Manitoba, graduating with a Bachelor of Science in Pharmacy in 1988. He worked in Winkler and Morden after graduation. Darwin joined Super Thrifty in1989, working at Medical Centre Pharmacy in Brandon. In 1991 Darwin moved north to Flin Flon where he managed the Super Thrifty Pharmacy in that location for ten years. After relocating to Selkirk in 2001, he assumed the role of pharmacist/manager/partner at Super Thrifty Pharmacy.
Darwin is certified by the College of Pharmacists of Manitoba in Opioid Dependence Treatment. He has served on the board of directors of Pharmacists Manitoba from 2009 to 2011. He began his current role as a director with Super Thrifty Drugs Canada Ltd. in 2012. He is the recipient of the Ozturk Pharmacy Business Leadership Award, presented to a pharmacy owner who demonstrates a commitment to the profession as well as providing outstanding pharmacy services to patients.
Darwin enjoys the people he meets every day. He believes that everyone has a story to tell, that we should fully listen and do what we can to help out. "Well-being is more than a prescription; sometimes a compliment or a smile can mean just as much. Being a small town pharmacist, you become part of the community and as Super Thrifty pharmacists, we're encouraged to try and make a positive difference in the lives of our customers."
Darwin is married to wife Heather. They have two children, Cailyn and Brennan. Darwin volunteers his time for various community groups. He enjoys Manitoba's great outdoors, as well as sports of all kinds.
Della Fidler
Pharmacist
Della graduated from the University of Saskatchewan in Saskatoon. Since 2003 Della has been a pharmacist at Parker's Super Thrifty in Selkirk. She's licensed to prescribe medications for self-limiting conditions and to administer injections. She's taken specialized training and is a Certified Fitter for compression stockings.
About working as a pharmacist in Selkirk, Della says "I enjoy the local store feel of our pharmacy where we know our patients by first names, by family members and by the special concerns they may have. It is fulfilling to be involved in solving the health concerns of our patients and to ensure they leave our pharmacy with more knowledge about their conditions and medications. It is important that patients are informed and involved in their healthcare."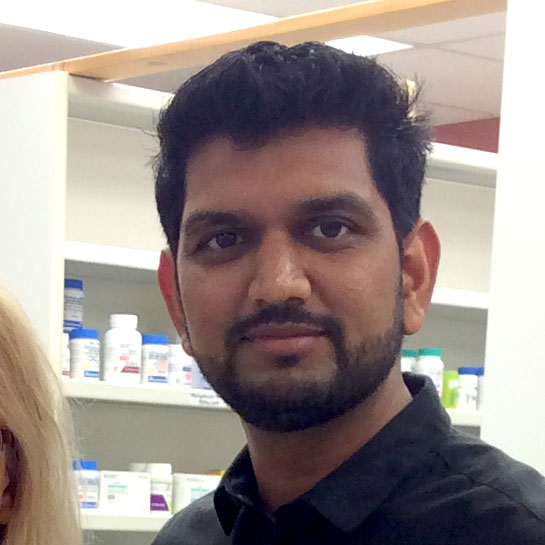 Jatin Patel
Pharmacist
Jatin graduated with his Bachelor of Pharmacy from the University of Gujarat, India in 2010. Later that year, he moved to Toronto. In 2012, Jatin moved to Winnipeg where he continued to further his education. In March of 2016, Jatin joined the Super Thrifty team at the Selkirk location.
Jatin is authorized to prescribe medications for self-limiting conditions and to administer drugs including vaccines by injections.
Jatin has this to say about living and working in Selkirk: "I really enjoy working with Super Thrifty Pharmacy under the direction of Darwin. I appreciate the opportunity I have, working in a friendly environment, with supportive staff members as well as to be able to implement the new ideas and thoughts that best suits for patient health."