Address
Box 699, 501 2nd Avenue
Rivers, Manitoba, Canada
R0K 1X0
| | |
| --- | --- |
| Phone: | +1 (204) 328-7420 |
| Fax: | +1 (204) 328-7123 |
Social Media
Store Hours:
Monday
9:30 AM to 6:00 PM
Tuesday
9:30 AM to 6:00 PM
Wednesday
9:30 AM to 6:00 PM
Thursday
9:30 AM to 6:00 PM
Friday
9:30 AM to 6:00 PM
Saturday
9:30 AM to 12:00 PM
1:00 PM to 6:00 PM
Sunday
CLOSED
Holidays
CLOSED
Pharmacy Hours:
| | |
| --- | --- |
| Monday | 9:30 AM to 6:00 PM |
| Tuesday | 9:30 AM to 6:00 PM |
| Wednesday | 9:30 AM to 6:00 PM |
| Thursday | 9:30 AM to 6:00 PM |
| Friday | 9:30 AM to 6:00 PM |
| Saturday | CLOSED |
| Sunday | CLOSED |
| Holidays | CLOSED |
Services
Health Services
Prescribing for minor ailments
Smoking cessation & counselling
Free needle disposal containers
Blood pressure testing
Medication packaging options
Affiliated with Super Thrifty Compounding Pharmacy
Affiliated with Home Health Care Pharmacy
Medication disposal
Store Services
Seniors' discount
Puzzles
Fashion apparel
Jewellery
Purses
Giftware
Candles
Riversol
Cosmetics
Toys & board games
Magazines & paperbacks
Photo kiosk
Special Services
Our Store
Gilchrist's Drug Store was a longtime Rivers establishment, having opened in 1942. In 1975 Joss March and his business partners bought the store from the Gilchrist family. It joined the newly-founded Super Thrifty family of pharmacies in 1977. In 2001, a brand new building was opened, located just down the street from the former store. On the east side of the pharmacy is a specially designed mural featuring a look back to the early years of the town of Rivers.
Not only does Super Thrifty Pharmacy serve Rivers and area's pharmacy requirements, the store is also a liquor outlet. In 1999 the store became the beer vendor when fire destroyed the Rivers Inn.
Joss March, one of the original founding partners of Super Thrifty, was the first pharmacist/manager/owner when the store opened in 1975 until 1985. Carman Denbow was store manager from 1985 until 1992. John Stanzeleit managed from 1992-1994. Since October 1994 Gary Pomeroy has been pharmacist/manager/owner.
Our Community
Rivers is a community located approximately 40 kms northwest of Brandon in the Riverdale municipality.  The town has a population of 1,200.  Agriculture, health and related businesses form the economic base for the community and area. There are schools in town for children in nursery school up to high school.  Rivers has its own police force. Via Rail's "The Canadian" stops at the Rivers railway station. Originally built in 1917 for Grand Trunk Pacific Railway, the station building was designated a national historical site in 1992.
Lake Wahtopanah, located nearby, is used all year for fishing, swimming, boating and water skiing. In the winter there are fish shacks as far as the eye can see! Riverdale is surrounded by beautifully groomed snowmobile trails. In summer there's a challenging 18 hole golf course just west of town.  The campground at the lake is in high demand and C.J.'s Snack Shack and Mini Golf is famous in the area.
Super Thrifty Pharmacy supports the annual Ag Society Fair by supplying prizes for the bike contest and by sponsoring the Reserve Champion Heifer Class for the 4-H Beef Club. The store supports the AAA Bantam Yellowhead Chiefs and the AAA Girls & Boys Yellowhead Chiefs Midget teams. The staff volunteers their time and clothing for the Riverdale & District Health Authority annual fundraising tea and fashion show.
Meet the team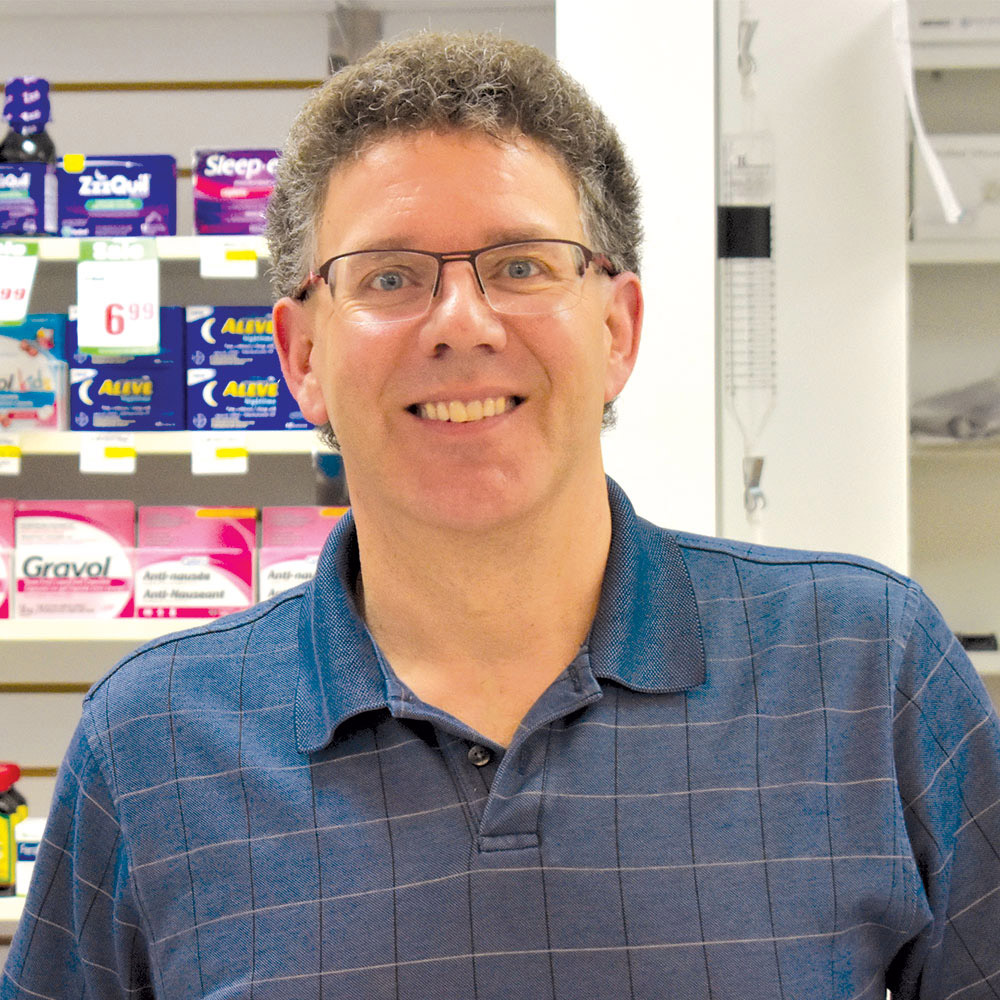 Gary Pomeroy
Manager/Pharmacist
Gary originally hails from Souris, MB. He received his Bachelor of Science degree from Minot State University in 1990. In 1993 he graduated from the University of Manitoba, Faculty of Pharmacy. Over the next year, Gary worked as the relief pharmacist at Super Thrifty locations in Dauphin, The Pas, Winnipegosis, Ste. Rose du Lac and Flin Flon. In October 1994 Gary assumed the position of pharmacist/manager in Rivers.
He is certified to prescribe for smoking cessation. As well he is authorized to prescribe for minor ailments. Gary enjoys community pharmacy where he has an opportunity to get to know his customers and see positive outcomes every day.