Home Health Care Pharmacy
Address
3000 Victoria Avenue, Unit A
Brandon, Manitoba, Canada
R7B 3Y3
| | |
| --- | --- |
| Phone: | +1 (204) 727-2483 |
| Toll Free: | +1 (800) 572-1002 |
| Fax (Pharmacy): | +1 (204) 727-5882 |
| Fax (Home Health Care): | +1 (204) 725-3664 |
Social Media
Store Hours:
| | |
| --- | --- |
| Monday | 9:00 AM to 6:00 PM |
| Tuesday | 9:00 AM to 6:00 PM |
| Wednesday | 9:00 AM to 6:00 PM |
| Thursday | 9:00 AM to 6:00 PM |
| Friday | 9:00 AM to 6:00 PM |
| Saturday | 9:00 AM to 4:00 PM |
| Sunday | CLOSED |
| Holidays | CLOSED |
Pharmacy Hours:
| | |
| --- | --- |
| Monday | 9:00 AM to 6:00 PM |
| Tuesday | 9:00 AM to 6:00 PM |
| Wednesday | 9:00 AM to 6:00 PM |
| Thursday | 9:00 AM to 6:00 PM |
| Friday | 9:00 AM to 6:00 PM |
| Saturday | 9:00 AM to 4:00 PM |
| Sunday | CLOSED |
| Holidays | CLOSED |
Services
Health Services
Authorized to administer drugs & vaccinations
Delivery service available
Free needle disposal containers
Blood pressure testing
Medication packaging options
Affiliated with Super Thrifty Compounding Pharmacy
Medication disposal
Certified surgical appliance technicians
Registered mastectomy and orthotic fitters
Consignment Services
If you're looking to save money or recycle a gently used item, consider the Home Health Care Pharmacy consignment program.
We accept the following items on consignment:
Golden/Pride Lift & Recline Chairs
Wheelchairs
Scooters
Walkers
Healthcraft Floor to Ceiling Pole
All items must be in good working condition with no visible rust or wear. Items must also be cleaned and sanitized by the consignor.
Consignments will be accepted by appointment only. Please call 204-727-2483 to make an appointment.
We are unable to consign hospital beds or bathroom equipment for sanitary reasons. We reserve the right to refuse items at our discretion.
To see our current selection of consignment items visit homehealthcarepharmacy.com.
Our Store
Although Home Health Care Pharmacy opened at its present location in 1994, its history has roots that go back to the early 1900s. At that time, Clement's Drug Store, the current pharmacy's forerunner, was located at 901 Rosser Avenue in downtown Brandon. The store was purchased in 1960 by pharmacist John Allen. In 1977, John Allen and a group of six other pharmacists joined forces to establish a new buying group known as Super Thrifty Drugs Canada Ltd.  Clement's Drug Store became a proud original member of this family of pharmacies. In 1989, the Clement Block was demolished and the pharmacy relocated across the street for a few years.
Home Health Care Pharmacy opened in 1994. This location, in addition to being a pharmacy, also specializes in aids for daily living, sports medicine, mobility aids, lift chairs and much more.
Joss March, a founding partner of Super Thrifty, was pharmacist/manager/owner from 1995 until his semi-retirement in 2011. Lori Dangerfield, who started her pharmacy career with Super Thrifty in 1978, became pharmacist/manager/owner in January 2012. She retired in October 2020. Mark Mercure, a Board Certified Geriatric Pharmacist joined the team at Home Health Care Pharmacy in 2018. Mark assumed the role as pharmacist/manager/owner in November of 2020.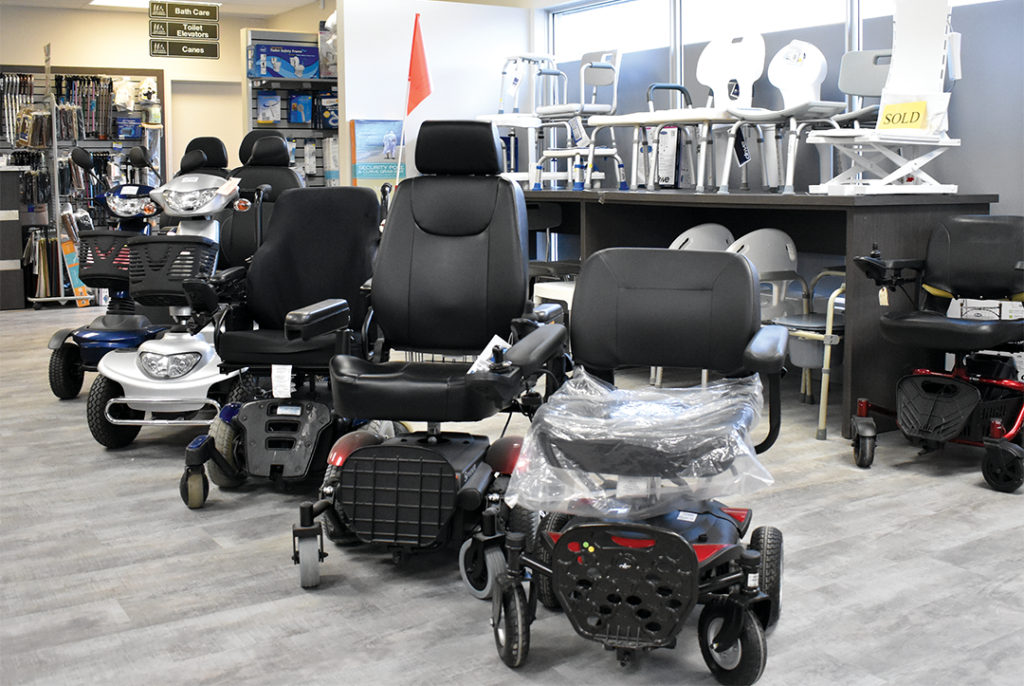 Our Community
Brandon is located on the banks of the Assiniboine River in southwestern Manitoba. It's the second largest city in Manitoba, with a population of 49,000 and a trading area of 180,000 people. Known as "The Wheat City" due to its agricultural economy, Brandon is also home to manufacturing, health care, transportation and food processing.
The Keystone Centre, one of the largest facilities of its type in Canada, is a multi-purpose facility which serves as home of the Brandon Wheat Kings hockey team and the Royal Manitoba Winter Fair. Established in 1882, Royal Winter Fair is only one of two annual fairs in Canada to receive Royal patronage and is one of the largest agricultural events in Western Canada.
Brandon University and Assiniboine Community College offer post secondary educational opportunities. Manitoba Emergency Services College offers training for careers for firefighters, primary care paramedics or emergency services personnel.  Brandon has something for every sports enthusiast, indoors or out, summer or winter.  Manitoba's many recreational areas, such as Riding Mountain National Park and Spruce Woods Provincial Park are within easy driving distance.
Meet the team
Mark Mercure
Pharmacist/Owner
Mark was born in Fort Frances, Ontario. He graduated from the University of Manitoba in 2006 and began his career as a pharmacist with Super Thrifty in 2008. Mark worked as a relief pharmacist for a few years and thoroughly enjoyed meeting the people in the many towns across Manitoba where he had the opportunity to work.
Mark has a specialty in Geriatric Pharmacy, having achieved the status of Board Certified Geriatric Pharmacist in 2010. From 2013 until July 2018, he provided Consultant Pharmacy services to five personal care homes in Brandon as manager of Pharma-Medic Services.
Mark joined the team at Home Health Care Pharmacy in September of 2018. He is certified to administer injections. Mark offers comprehensive medication reviews to older adults to simplify medication regimens and solve medication related issues. This in-depth consultation service provides patients with solutions tailored to their personal health concerns. He takes the time to listen and to get to know his patients and provides a detailed report for the patient and their doctor. His recommendations allow a person to get the most benefit from their medications with the least amount of risks and side effects. He is proud of the positive impact that these reviews provide to his patient's health.
Mark's favourite thing about being a pharmacist is the opportunity to provide solutions for older adults who have specific and often complex medication related issues. As a Super Thrifty pharmacist, Mark appreciates how the company's "We Care" philosophy applies to its customers, staff and the local communities alike.