Address
1100 Richmond Avenue
Brandon, Manitoba, Canada
R7A 1M6
| | |
| --- | --- |
| Phone: | +1 (204) 728-5730 |
| Fax: | +1 (204) 727-3382 |
Social Media
Store Hours:
| | |
| --- | --- |
| Monday | 9:00 AM to 6:00 PM |
| Tuesday | 9:00 AM to 6:00 PM |
| Wednesday | 9:00 AM to 6:00 PM |
| Thursday | 9:00 AM to 6:00 PM |
| Friday | 9:00 AM to 6:00 PM |
| Saturday | 9:00 AM to 5:00 PM |
| Sunday | CLOSED |
| Holidays | CLOSED |
Pharmacy Hours:
| | |
| --- | --- |
| Monday | 9:00 AM to 6:00 PM |
| Tuesday | 9:00 AM to 6:00 PM |
| Wednesday | 9:00 AM to 6:00 PM |
| Thursday | 9:00 AM to 6:00 PM |
| Friday | 9:00 AM to 6:00 PM |
| Saturday | 9:00 AM to 5:00 PM |
| Sunday | CLOSED |
| Holidays | CLOSED |
Services
Health Services
Prescribing for minor ailments
Authorized to administer drugs & vaccinations
Smoking cessation & counselling
Delivery service available
Free needle disposal containers
Blood pressure testing
Medication packaging options
Affiliated with Home Health Care Pharmacy
Medication disposal
Brandon's only state-of-the-art Compounding Lab
Store Services
Seniors' discount
Puzzles
Fashion apparel
Jewellery
Purses
Watkins Products
Candles
Riversol
International foods
Cosmetics
Toys & board games
Magazines & paperbacks
Special Services
Brandon's only drive-thru pharmacy
Scents Fine Fragrances
Brandon's only state-of-the-art compounding lab
Our Store
Super Thrifty Pharmacy opened as Allen-Brown Drug Mart in the Brandon Shoppers Mall in 1971. It was one of the original stores forming Super Thrifty when the new company was founded in 1977. After its long presence in the mall, the owners made the decision to relocate to the current location at 1100 Richmond Avenue. In 2001, a new building with an actual grain bin incorporated in its design, was built and the store relocated with the new name of Super Thrifty Pharmacy.
This pharmacy provides the only drive-through service in Brandon, increasing accessibility and convenience for its customers. In 2005, Super Thrifty Pharmacy started to offer Specialty Compounding, allowing the pharmacists to customize medications to the patients' unique requirements. Today the pharmacy is able to compound medications for pain management, bioidentical hormone replacement therapy, smoking cessation and into areas as diverse as veterinary medicine. In 2015 a state-of-the-art compounding lab complete with a sterile suite was built. This restricted area contains the specialty equipment and computer system designed exclusively for this highly specialized area to maintain quality.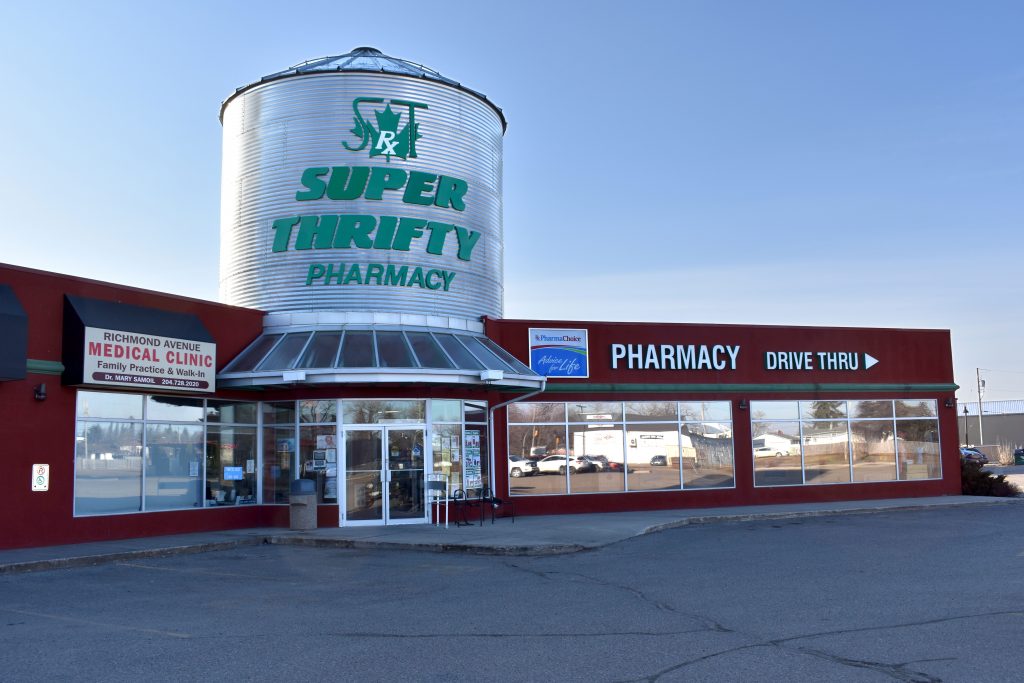 Our Community
Brandon is located on the banks of the Assiniboine River in southwestern Manitoba. It's the second largest city in Manitoba, with a population of 49,000 and a trading area of 180,000 people. Known as "The Wheat City" due to its agricultural economy, Brandon is also home to manufacturing, health care, transportation and food processing.
The Keystone Centre, one of the largest facilities of its type in Canada, is a multi-purpose facility which serves as home of the Brandon Wheat Kings hockey team and the Royal Manitoba Winter Fair. Established in 1882, Royal Winter Fair is only one of two annual fairs in Canada to receive Royal patronage and is one of the largest agricultural events in Western Canada.
Brandon University and Assiniboine Community College offer post secondary educational opportunities. Manitoba Emergency Services College offers training for careers for firefighters, primary care paramedics or emergency services personnel.  Brandon has something for every sports enthusiast, indoors or out, summer or winter.  Manitoba's many recreational areas, such as Riding Mountain National Park and Spruce Woods Provincial Park are within easy driving distance.
Meet the team
Jennifer Ludwig
Manager/Pharmacist
Jennifer's Super Thrifty career started as a teenager, working the front till at Home Health Care Pharmacy. Upon her acceptance into the Faculty of Pharmacy at the University of Manitoba, she worked as a pharmacy assistant and student until her graduation in 2005.  She then packed her suitcase, travelling around Manitoba as a Super Thrifty relief pharmacist for just over a year, filling in so that others could take their much deserved vacations.
In 2006, Jennifer completed specialized training in compounding at the Professional Compounding Centres of America (PCCA) in Houston, Texas. Since that time, she has attended various conferences to increase her knowledge in pain management, hormone replacement therapy and veterinary medicine. Her interest in veterinary medicine became even more apparent with the addition of her puppies, Bogey Maverick and Lou Bixby, and she became certified in veterinary compounding in December 2010. Jennifer is certified to prescribe medications for self-limiting conditions.
Jennifer became an owner and the manager of Super Thrifty Pharmacy in 2011. She serves as a member on the Super Thrifty Drugs Canada Ltd. Board of Directors. Since 2012, Jennifer has served on council for the College of Pharmacists of Manitoba and has acted as their Executive Treasurer, President and Vice-President. Jennifer is a recipient of the YWCA Women of Distinction Award for her contributions to the health and well-being of the community."Pharmacy has always been my passion. You could say it is in my blood!" Her uncle Joss March is one of the Super Thrifty founding partners, and she has two great-uncles who were also pharmacists. "Treating people with quality care and respect has always been the motto of Super Thrifty – from every level of operation. I love knowing who my patients are and being able to greet them by name when they come into the store. Super Thrifty has always been like my second family."
Jasmine Campbell
Pharmacist/Manager
Jasmine graduated from the College of Pharmacy, University of Manitoba in 2016. After completing her internship with Super Thrifty Pharmacy, Jasmine accepted a full time position as pharmacist. She completed the C3 Comprehensive Compounding Course at the Professional at the Professional Compounding Centres of America in London, Ontario in September 2016.
Jasmine enjoys the specialization of compounding, particularly witnessing the benefits of individualized patient care. She enjoys learning something every day through the challenges of compounding. She's certified to administer injections and can prescribe medications for smoking cessation.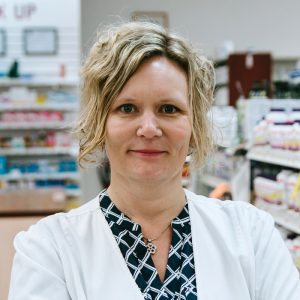 Allison Barclay
Pharmacist
Allison began with Super Thrifty in 2007 as a consultant pharmacist with Pharma-Medic Services. Here she gained experience in geriatric pharmacy and enjoyed collaborating with other health care professionals in the provision of care to Brandon's personal care home residents. Wanting to keep active in community pharmacy, she joined Medical Centre Pharmacy in 2013 and presently works there on a part-time basis. Allison accepted a new challenge in 2018, joining the staff at Super Thrifty Pharmacy.
She completed the C3 comprehensive compounding course at the Professional Compounding Centres of America (PCCA) and is thrilled to work as a member of  the experienced compounding team to provide patients with unique and personalized medication options.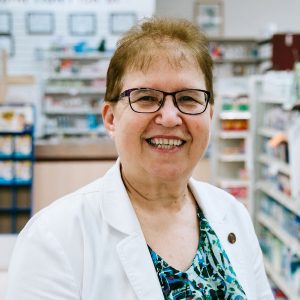 Kim Bright
Pharmacist
2019 marks Kim's 20th year with Super Thrifty and 40th as a pharmacist. She is certified to administer injections as well as prescribe medications for self-limiting conditions. She is a breast feeding counsellor.
Kim has a great sense of adventure and is always looking for new and fun things to do in the community.  She's a Zumba-loving clog dancer and is a roller derby ref. Kim scrubs the floor at Helping Hands, Brandon's soup kitchen – a chore that her father taught her fifty years ago in his pharmacy.  Her latest adventure involves conducting the choir at Seniors for Seniors.