Address
112 Main Street
Melita, Manitoba, Canada
R0M 1L0
| | |
| --- | --- |
| Phone: | +1 (204) 522-3255 |
| Fax: | +1 (833) 333-1657 |
Social Media
Store Hours:
| | |
| --- | --- |
| Monday | 9:00 AM to 5:30 PM |
| Tuesday | 9:00 AM to 5:30 PM |
| Wednesday | 9:00 AM to 5:30 PM |
| Thursday | 9:00 AM to 5:30 PM |
| Friday | 9:00 AM to 5:30 PM |
| Saturday | CLOSED |
| Sunday | CLOSED |
Pharmacy Hours:
| | |
| --- | --- |
| Monday | 9:00 AM to 5:30 PM |
| Tuesday | 9:00 AM to 5:30 PM |
| Wednesday | 9:00 AM to 5:30 PM |
| Thursday | 9:00 AM to 5:30 PM |
| Friday | 9:00 AM to 5:30 PM |
| Saturday | CLOSED |
| Sunday | CLOSED |
Services
Health Services
Prescribing for minor ailments
Authorized to administer drugs & vaccinations
Smoking cessation & counselling
Opioid replacement treatment
Delivery service available
Free needle disposal containers
Blood pressure testing
Medication packaging options
Affiliated with Super Thrifty Compounding Pharmacy
Affiliated with Home Health Care Pharmacy
Medication disposal
Store Services
Manitoba Lottery ticket centre
Puzzles
Fashion apparel
Jewellery
Purses
Giftware
Riversol
International foods
Cosmetics
Toys & board games
Magazines & paperbacks
Photo kiosk
Special Services
Kitchenware
One stop gift wrap centre
Our Store
There has been a pharmacy in Melita since 1891. Morrow's Pharmacy Ltd. was purchased by Super Thrifty in October 2002. Peter Kovac was the pharmacist/manager until spring 2022. Alexis Teetaert started as pharmacist in 2016 shortly after she graduated. She became the pharmacist/manager in April of 2022.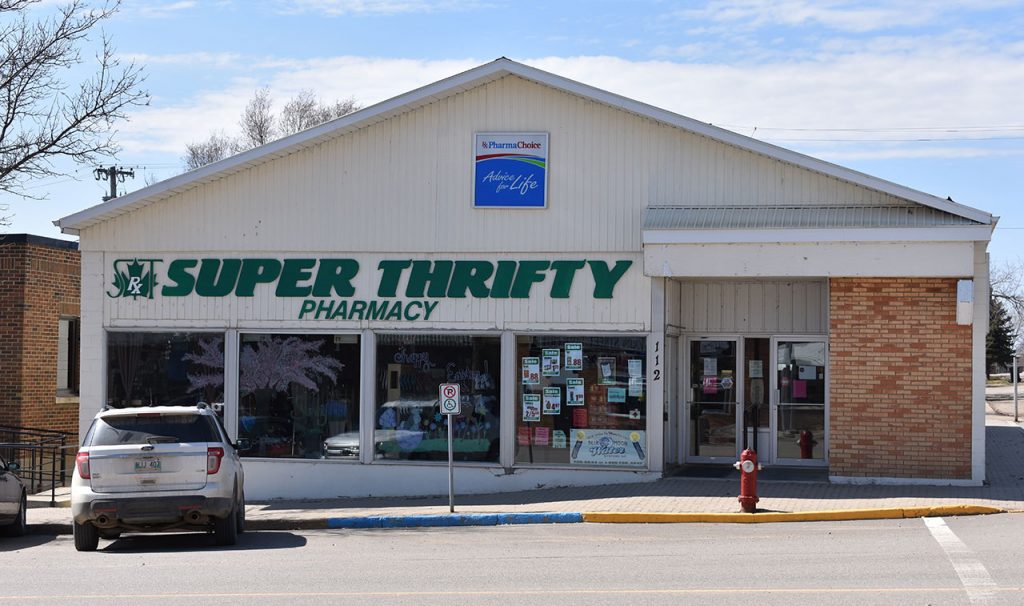 Our Community
Melita, located near the Canada-United States border in the southwestern corner of Manitoba, has a population just over 1000 friendly folks. Melita and the surrounding area is known as the "Grasslands Bird Capital of Manitoba" because of the area's extraordinary wealth of rare prairie bird species and attracts birdwatchers from all over the world.  Due to its comparatively moderate weather, Melita is known as being in the banana belt. In 2010 a nine metre high giant banana statue named Sunny was unveiled making this roadside attraction the world's largest freestanding banana. In one of its hands sits a blue jay, dubbed Breezy, as a nod to the area's designation as an important birding area. Every August the three day Melita Banana Days Festival takes place with something for everyone.
Super Thrifty is a major supporter of the free concert during the Melita Banana Days Festival. Community fundraisers are supported as are local sports teams. Super Thrifty is a committed financial contributor to the Melita Arena expansion project as it transforms for use as a multi-use building.
Meet the team
Peter Kovac
Manager/Pharmacist
Peter graduated from the University of Manitoba in 1987, working mainly in hospital pharmacy prior to coming to Super Thrifty. Peter joined Super Thrifty in July 2002, originally working at Super Thrifty Pharmacy in Virden. In October of 2002, Super Thrifty opened a store in Melita and Peter became manager at this location, where he's been ever since.
Peter has an interest in addiction medicine and has attended several Canadian Society of Addiction Medicine annual conferences. He is able to prescribe certain medications for self-limiting conditions and is qualified to administer injections. In addition, Peter is certified by the College of Pharmacists of Manitoba in Opioid Dependence Treatment.
Peter appreciates a good joke and has several community members that come by the store on an almost daily basis to tell him a new joke. Alexis Teetaert
Pharmacist/Manager
Alexis has been working with Super Thrifty since the summer of 2014. Upon her graduation from the University of Manitoba, College of Pharmacy in 2016, Alexis has been full time working at Melita Super Thrifty Pharmacy. She is authorized to administer injections. As well, she is able to prescribe medications for self-limiting conditions and smoking cessation. She focuses on getting to know her customers and providing them with the best possible care. Alexis loves working for Super Thrifty and values their commitment to customer care and rural involvement.
Alexis grew up in Waskada, Manitoba and values community participation. Since graduation, she has volunteered at various events in Melita, including sitting on the "Banana Days" committee and coaching women's 17 and under midget hockey.  Alexis married her high school sweetheart in 2016 and they now have a young family.