Address
224 Main Street North
Dauphin, Manitoba, Canada
R7N 1C4
| | |
| --- | --- |
| Phone: | +1 (800) 465-1996 |
| Phone: | +1 (204) 638-3702 |
| Fax: (Front Store) | +1 (204) 638-4451 |
| Fax: (Pharmacy) | +1 (833) 999-0834 |
Social Media
Store Hours:
| | |
| --- | --- |
| Monday | 9:00 AM to 6:00 PM |
| Tuesday | 9:00 AM to 6:00 PM |
| Wednesday | 9:00 AM to 6:00 PM |
| Thursday | 9:00 AM to 6:00 PM |
| Friday | 9:00 AM to 6:00 PM |
| Saturday | 9:00 AM to 5:00 PM |
| Sunday | CLOSED |
| Holidays | CLOSED |
Pharmacy Hours:
| | |
| --- | --- |
| Monday | 9:00 AM to 5:30 PM |
| Tuesday | 9:00 AM to 5:30 PM |
| Wednesday | 9:00 AM to 5:30 PM |
| Thursday | 9:00 AM to 5:30 PM |
| Friday | 9:00 AM to 5:30 PM |
| Saturday | 9:00 AM to 10:00 AM |
| Sunday | 9:00 AM to 10:00 AM |
| Holidays | 9:00 AM to 10:00 AM |
Services
Health Services
Prescribing for minor ailments
Authorized to administer drugs & vaccinations
Smoking cessation & counselling
Delivery service available
Free needle disposal containers
Blood pressure testing
Medication packaging options
Affiliated with Super Thrifty Compounding Pharmacy
Affiliated with Home Health Care Pharmacy
Medication disposal
Opioid dependence treatment
Store Services
Seniors' discount
Manitoba Lottery ticket centre
Puzzles
Fashion apparel
Jewellery
Purses
Giftware
Riversol
Cosmetics
Toys & board games
Magazines & paperbacks
Watkins products
Special Services
Free next day courier service to over 20 rural communities
Our Store
First established in the 1950s, Stitt's Drug Store was a long-time Dauphin fixture. In 1986 the store became part of the Super Thrifty chain.
Brent Gray served as pharmacist/manager/owner from 2001 until 2013. Sheri Gardner has been pharmacist/manager/owner since 2013.
Our Community
Situated within the Parkland Region of Manitoba, Dauphin is ideally located within easy driving distance to many resorts, beaches and recreation hotspots, including Riding Mountain National Park. There's an abundance of recreational options year-round including fishing, hiking, snowmobiling, camping and golf.  The National Ukrainian Festival highlights Dauphin's rich Ukrainian heritage. Every summer, Dauphin's Countryfest showcases outstanding country artists and is Canada's longest running country music festival.
Super Thrifty in Dauphin is proud to be a Gold Sponsor for Dauphin Minor Hockey.  In addition to supporting local charities with their in-house staff "Blue Jeans Friday", Super Thrifty donates bottled water for the annual Dauphin MudRun and is a strong supporter of many community fundraisers.
Meet the team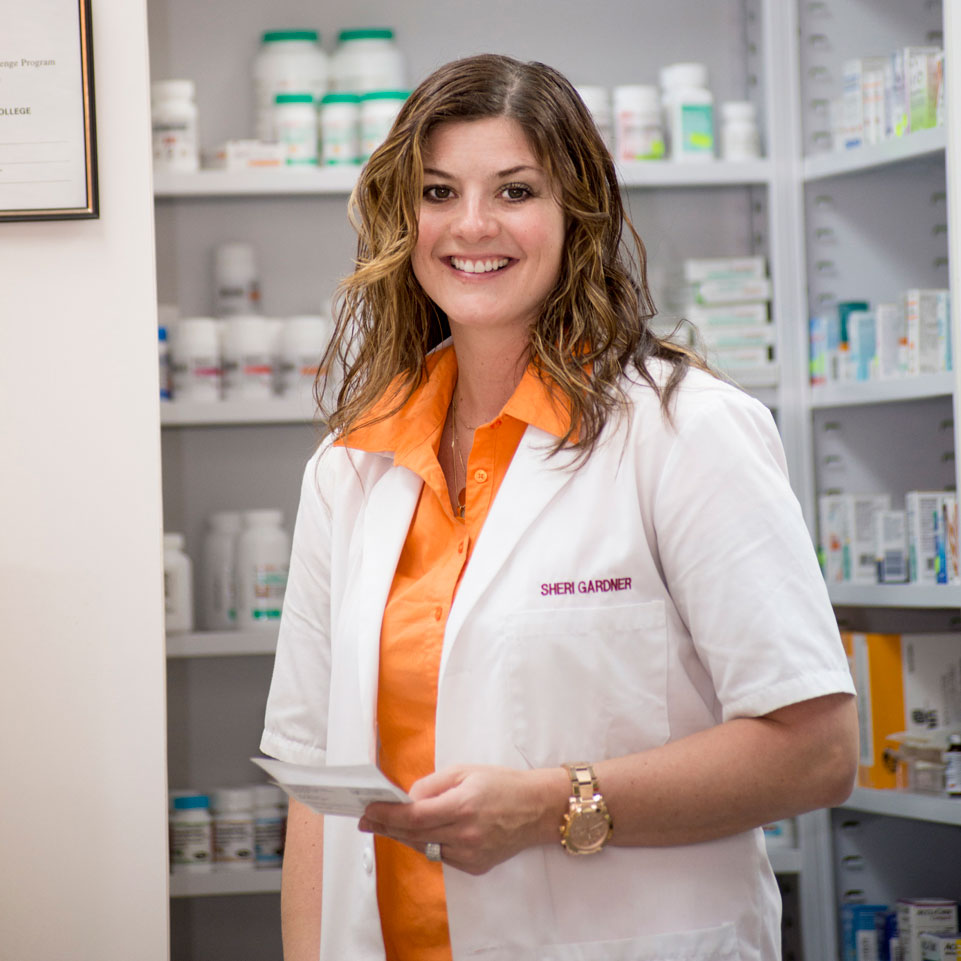 Sheri Gardner
Manager/Pharmacist
Sheri is a true Parkland girl! Born in Dauphin, she grew up in Brandon but with a family farm in Ochre River, her school years were spent travelling back and forth between her two homes. Sheri graduated from the University of Manitoba, Faculty of Pharmacy with Honours in 2001. She met husband Ryan and returned to Dauphin in 2004. After working nine years as a pharmacy manager, Sheri fulfilled her dream of owning and managing her own pharmacy, when she joined Super Thrifty in Dauphin in 2013.
Sheri and Ryan have three children: Ryder, Parks and Kenzie. They all enjoy living close to and spending time with extended family.
Sheri is authorized to administer injections. She's also certified to prescribe medications for self-limiting conditions. In addition, she can prescribe medications for smoking cessation. Sheri is certified by the College of Pharmacists of Manitoba in Opioid Dependence Treatment. She has been working with the Addictions Foundation of Manitoba and the Primary Care Outreach Clinics in Dauphin and Swan River to help care for those struggling with opioid dependence. Sheri embodies the Super Thrifty "We Care" philosophy by providing personal service in a discreet, comfortable and professional environment.
Sheri says: "The most satisfying part of pharmacy for me is the people you meet, the relationships you make and the trust you build. We take pride in knowing all of our clients by name!  Being the only pharmacist in the store, I am involved in the healthcare of each and every one of my clients. I also love being a part of this amazing community and we donate and sponsor as much as we can. I love that the company Super Thrifty lets store managers make all our own decisions and they really value family and community, just like me!"