Address
110 Ellice Street
Rocanville, Saskatchewan, Canada
S0A 3L0
| | |
| --- | --- |
| Phone: | +1 (306) 645-2633 |
| Fax: | +1 (306) 645-2175 |
Rocanville Super Thrifty is Now Under New Management
Don't worry because your prescriptions will continue uninterrupted. Please call or visit the pharmacy to request your refill.
110 Ellice Street
Rocanville, Saskatchewan, Canada
S0A 3L0
Phone: 306-645-2633
Services
Health Services
Prescribing for minor ailments
Authorized to administer drugs & vaccinations
Smoking cessation & counselling
Delivery service available
Free needle disposal containers
Blood pressure testing
Affiliated with Home Health Care Pharmacy
Medication disposal
Store Services
Seniors' discount
Puzzles
Watkins products
Toys & board games
Magazines & paperbacks
Photo kiosk
Our Store
The history of this store is a little unusual. Having not had a pharmacy in town since 1961, the town set the goal of finding people willing to open a much-needed pharmacy and to become part of their community. A building was renovated with this in mind. Super Thrifty was approached and the rest is history. The store was opened in 1997 and has served the community ever since.
Jason Czettisch was pharmacist/manager/owner from 1997 until 2001. At that time, Traci Burke, originally from Rocanville, returned to her home town and became the store pharmacist/manager/owner.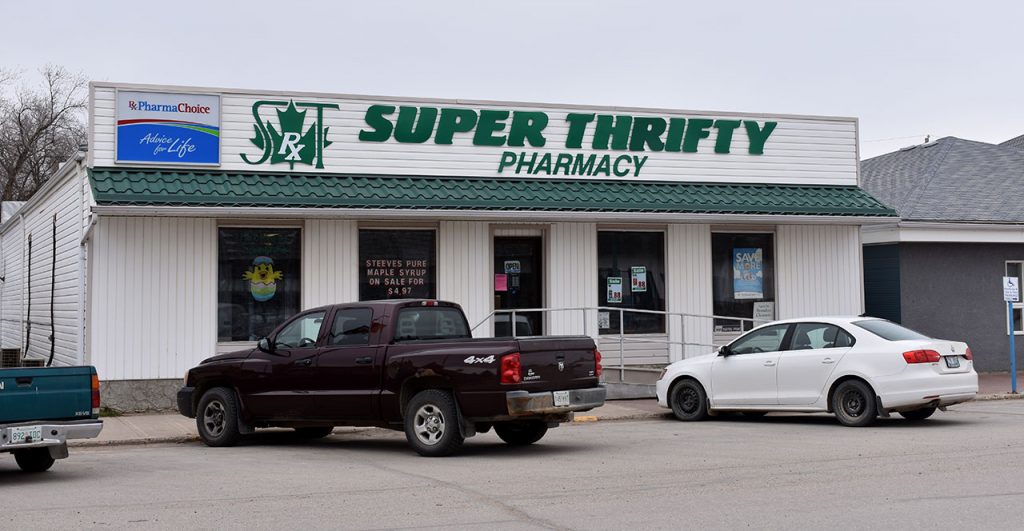 Our Community
Rocanville is a small town in Saskatchewan.  Rocanville is the site of the Nutrien potash mine and is the town's largest employer. Nutrien is the largest producer of potash in the world.  Rocanville has the distinction of being the home of the world's largest oil can, which was built to commemorate the Symons Oiler Factory, now a heritage site. This factory produced over one million oil cans during the Second World War.
Rocanville is a thriving community with a strong volunteer base. There are recreational facilities to ensure that no matter the sport, there's something for everyone.  There's a medical clinic as well as a dental clinic.
Super Thrifty is a annual supporter of the Rocanville Community Dial-A-Van providing affordable transportation to community members. Super Thrifty has also supported the building campaigns for the local daycare and Nutrien Community Hall. Various teams and community projects are supported by both donations and staff volunteers.
Meet the team
Traci Burke
Manager/Pharmacist
Traci graduated from the University of Saskatchewan, College of Pharmacy in 1991. Her first job was in Fort McMurray. After three years there, she moved to Manitoba to work for Super Thrifty in Virden. In 2001 an opportunity came along to manage the Super Thrifty Pharmacy in her home town of Rocanville, Saskatchewan. Traci, her husband and two daughters have called Rocanville home ever since.
During her career as a pharmacist, Traci has been very grateful that pharmacists have been given the authority to take on roles traditionally performed by doctors or nurses. Traci is certified to administer injections, to prescribe for minor ailments such as urinary tract infections, shingles and birth control. She is certified to counsel and to prescribe medication for smoking cessation. Traci has taken specialist training for conducting in-depth medication reviews. Traci hopes that these services will give people more access to health care and improve the well-being of all of the residents in her community.